불고기 Bulgogi
불고기 (Bulgogi : 불 means fire, 고기 means meat) is my favorite Korean dish, so I make it almost once a week.  There are several 불고기, which are 소불고기(beef Bulgogi), 돼지불고기(pork Bulgogi) and 닭불고기(chicken Bulgogi).  Making Bulgogi is not that hard!
1. Buy thin slices of sirloin or prime cuts of beef. It needs to be REALLY REALLY THIN.  얇게 썬 등심을 사요.  아주 아주 얇아야 해요!
2. Buy Bulgogi sauce.  If you want to make the sauce, you can follow this recipe.  I am too lazy to make the sauce. 😛  Where to buy?  You can search 'Bulgogi sauce' on Amazon.  Which one is good?  There are all similar.  불고기 양념을 사요.  불고기 양념을 만들고 싶으면, 이 레시피를 따라하세요.  저는 너무 게을러서 소스를 못 만들어요. 😛  불고기 소스는 어디에서 살까요?  아마존에서 검색하세요.  어떤 게 좋을까요?  다 비슷해요. 🙂
3. Marinate beef with the sauce. ( I normally marinate for 1 hours.)  고기를 양념에 재워요. (저는 보통 한 시간 쯤 재워요)
4. Slice onions, green onions, mushrooms, Jalapeno and carrots. 양파, 파, 버섯, 고추, 당근을 채 썰어요.
5. Fry the marinated beef and veges together.  (put green onion at the end. )  채소와 고기를 넣고 같이 볶아요. (파는 제일 마지막에 넣어요)
6. I always put Korean vermicelli noodles at the end.  (You should soak the noodles in water at least 40 mins in advance. )  저는 항상 당면을 마지막에 넣어요.  (최소 한 시간 전에 당면을 물에 불려야 해요)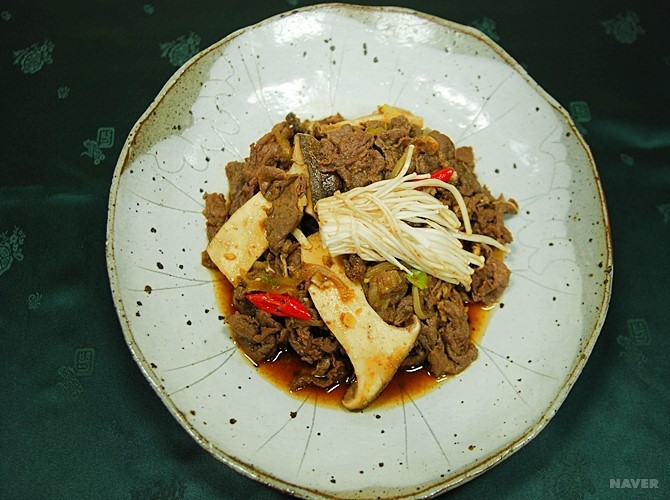 Isn't it easy?  오늘 저녁에 불고기 먹을 거예요? Are you going to have Bulgogi tonight?